Tarot desk in the chapel of Avenieres
The walls, completely covered with mosaic, present the desk of the Tarot of Marseille. The style is revisited, modern, even kitsch.
If each card remains faithful to the traditional tarot, the differences jump to the eyes. The characters are clothing with the ancient Persan or Egyptian way. The bottom of each card gives symbolics elements : at the left corner the number of the card is indicated, from 0 to 21. In the right corner an hebraic letter is drawn. In the lower medium of the card one geometric pattern is enclosed, generally representing a planetary or chemical symbol.
Discover some broad sights of this blue chapel. The unity of style and the richness of the symbols impress. We will further see in detail each card in our visit.
New Only one photo to see all the chapel and her wands with the tarot desk in mosaic, click here (very big photo 10.4 Mo, 11340*2700 pixels)
Click on the following photos for larger size
Left side of the door, while entering
Top of the door, in the chapel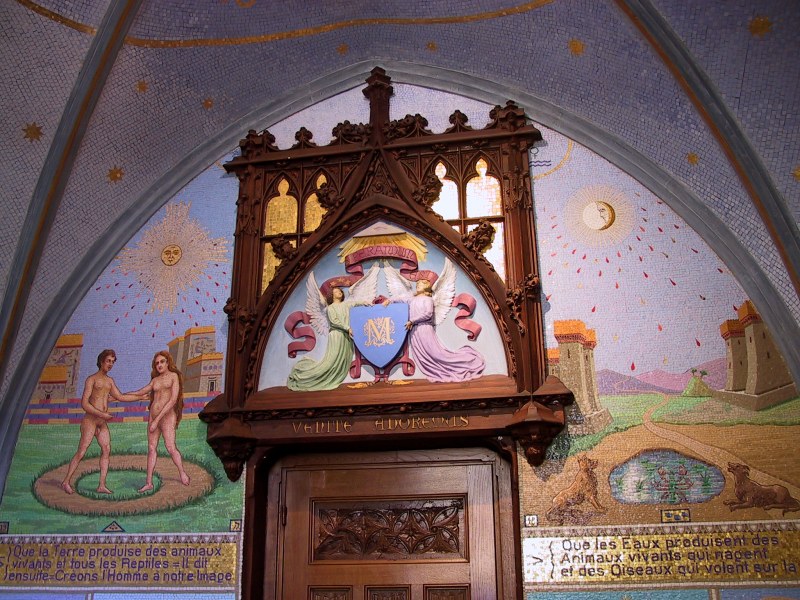 Left side of the blue chapel
Right side of the blue chapel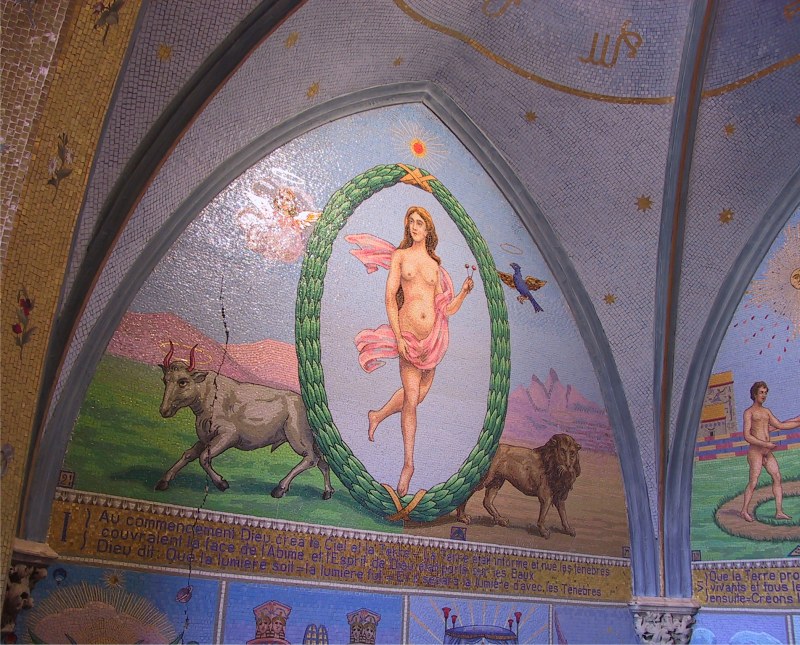 The cards are presented in disorder, except the card I, the Juggler, which accomodates us as of the door of crossed entry. We are naturally taken to the following, card 13, the card "without name", not to pronounce the word taboo "death".
By a wink of the History these cards fell into the lapse of memory, allowing their conservation: this castle is sold and reconverted in 1937 or 1939 in convalescent home for children, animated by Polish Ursulines. It is out of question of accomodating the sisters in such a sulfurous chapel. Wood plates are then adjusted against the mosaiques ones, masking those up to the ceiling. They will be removed only forty years later on the initiative of a former pupil of the Avenieres, the castle having been transformed into college deprived between 1950 and 1970, Mr Bertrand Jacquet.
See the organization of the tarot desk with the plan of the chapel (page in french).
Following page, in french :
The XXII Tarot desk, one by one